BCA Approved Training & Testing Centre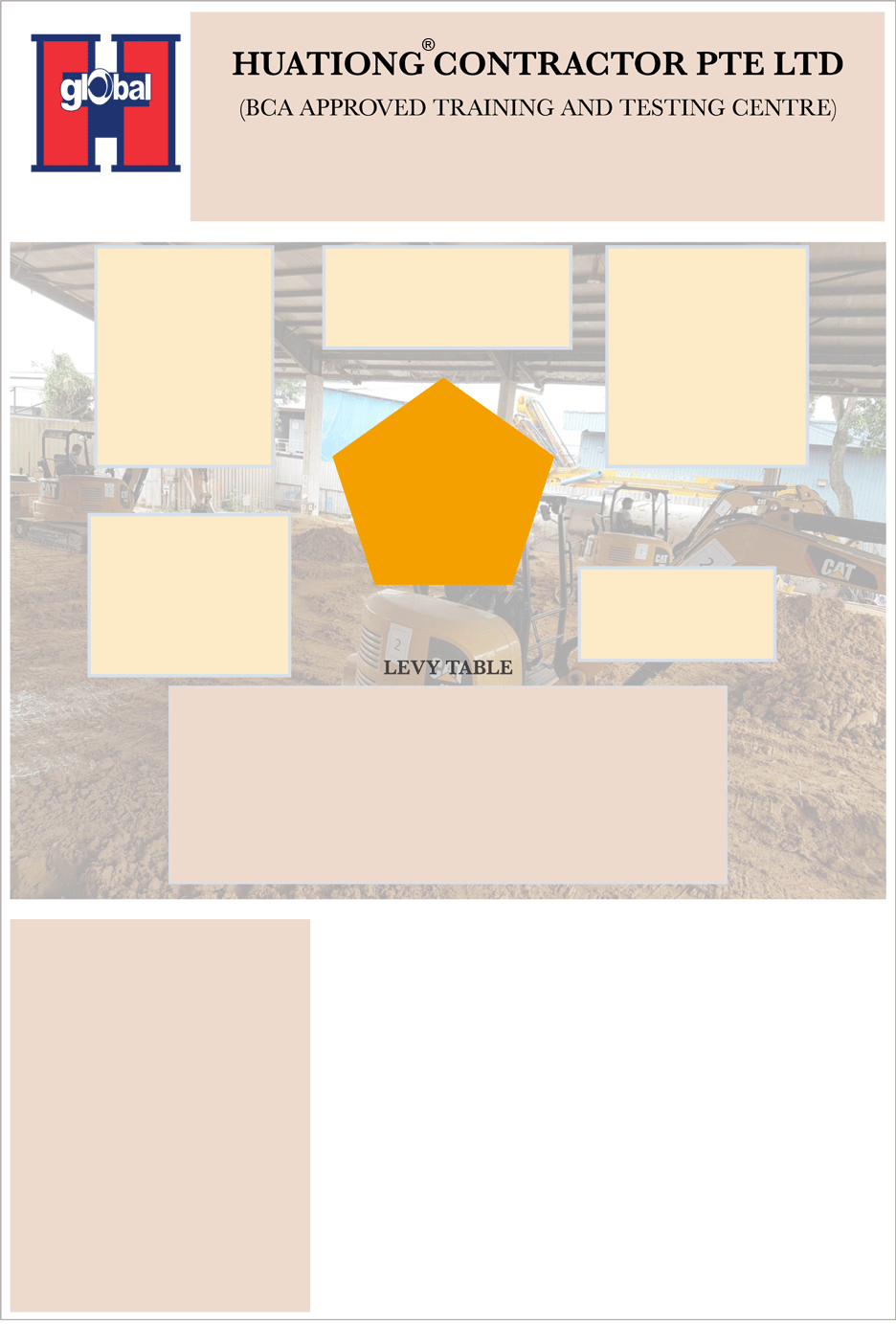 MOM Requirements wef 1st Jan 2017 to have 10% of work permit holder to be qualified as R1 workers
Enhance productivity of your workforce by building up skilled pool
Increase awareness of safety through our value courses when operating heavy machinery on site with our experienced trainers
Meet project deployment requirements – Man Year allocation according to project
Why Train With Us?
Enjoy lower levy with higher skilled workers
TIER
SECTOR DEPENDENCY RATIO
LEVY RATE (R1/R2) FROM 1 JUL 2015
LEVY RATE (R1/R2) FROM 1 JUL 2016
LEVY RATE (R1/R2) FROM 1 JUL 2017
BASIC TIER
>=87.5%
300/550
300/650
300/700
MYE-WAIVER
600/650
600/950
600/950
For more information and enquiries,
Office: 6366 5005
Mobile: 8693 5005
Email: training@huationg.com.sg
Person-In-Charge:
Douglas Ng
Company Mailing Address
9 Benoi Crescent
Singapore 629972

Training Centre
3 Kranji Loop
Singapore 739539

With the rapid pace of construction activities in Singapore, great emphasis has been placed on the construction industry to enhance productivity and quality. Worker's training is a key to achieve this goal and the courses are designed to train workers to meet the stringent requirements of the industry.
Course available at Huationg® ATTC
Hydraulic Excavator Operation
Hydraulic Excavator Operation (As Lifting Machine)
Continuing Education and Training (CET)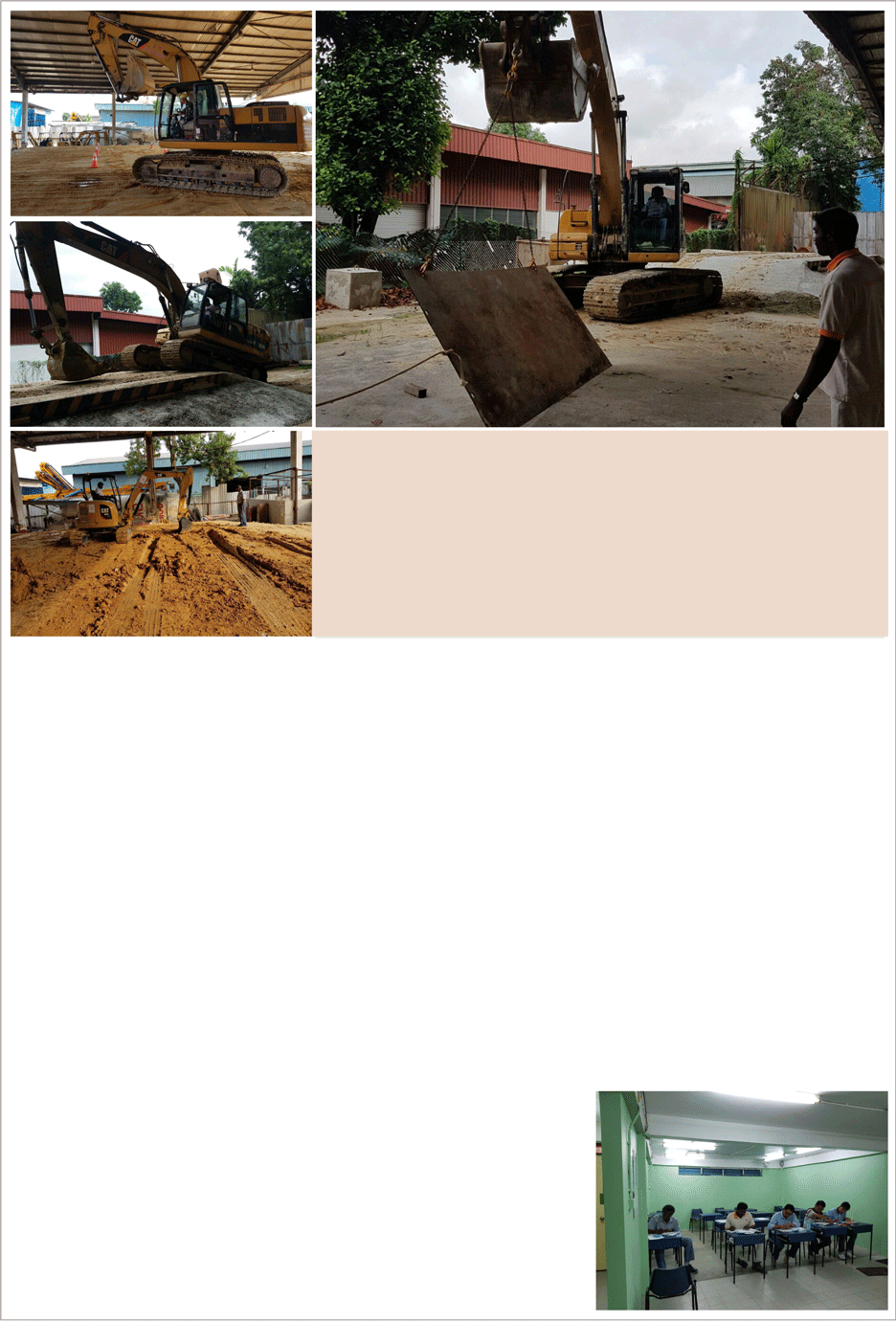 Experiential Learning And Guidance On Site
Hydraulic Excavator Operation
Hydraulic Excavator Operation (As Lifting Machine)

General knowledge of earthworks and surveying
Principal components, power and transmission systems of excavator
Daily inspection and weekly maintenance of excavator
Pre-start and shut-down procedures
Trenching, ditching and slope cutting techniques
Maintaining stability in operation
Good practices for backfilling, travelling and loading
Safety requirements
Intepret drawings, calculate earth quantities, levels, slopes and width of excavations

Identify the different types of hydraulic excavator commonly used in construction industry
Identify the principal components of a hydraulic excavator
State the functions of safety devices and indicators fitted on the hydraulic excavator
Perform the recommended hand signals and telecommunication for hydraulic excavator operation
Observe correct operating procedures and safety precautions
Intepret Lifting Plans and make appropriate preparations prior to lifting
Read load indicator monitor and interpret warning signs

CET for Construction Plant Operation (Non-Lifting)

Upgrade the construction workforce for all CoreTrade and Multi-Skilling Personnel
Latest codes and regulations of the trades
New installation methods, equipment, material and tools of the trades
Upkeep good practice for onsite incorporating quality, productivity, health and safety aspects of the trade
COURSE ADMINISTRATIVE DETAILS
Trades
Test Level
(SEC(K)/Skill Assessment-CoreTrade)
Duration (1 day = 8 hours)
Course / Test Fee
(excluding of GST)
Theory
Practical
Test
Hydraulic
Excavator
Operation
Tradesman / Express Course & Skills Assessment
1 day
1 day
1 day
$960.00
Tradesman / Normal Course & Skills Assessment
1 day
4 days
1 day
$1,500.00
SEC(K) / Express Course & Skills Assessment
1 day
1 day
1 day
$960.00
SEC(K) / Normal Course & Skills Assessment
1 day
4 days
1 day
$1,500.00
SEC(K) Retest
-
-
1 day
$390.00
Skills Assessment Retest
-
-
1 day
$385.00
Hydraulic
Excavator
Operation

(As Lifting
Machine)
SEC(K) / Express Course & Skills Assessment
1 day
1 day
1 day
$1000.00
SEC(K) / Normal Course & Skills Assessment
1 day
4 days
1 day
$1560.00
SEC(K) Retest
-
-
1 day
$360.00
Construction
Plant Operation
(Non-Lifting)
Continuing Education and Training (CET)
3.5 hour
-
30mins
$100.00
*SEC(K) – Skill Evaluation Certificate (Knowledge); Certificate as awarded by BCA.
*Skill Assessment – CoreTrade Status; License as approved by BCA for Man-year deployment needs
*The Above Course / Test Fees are excluding GST
ADMINISTRATION DETAILS
Intake: Subject to minimum class size enrolled. Confirmation of training place is based on a first come, first served basis.
Payment: Tax Invoice will be issued upon payment through cheque.
Document Submission: Please ensure all relevant documents are submitted for registration.

REGISTRATION WILL BE DELAYED IF THE DOCUMENTS ARE NOT IN ORDER
All rights reserved by Huationg® Approved Training & Testing Centre
For more information, please contact Douglas Ng at 6366 5005 / 8693 5005 or training@huationg.com.sg